Activity of Dm-dNK enzyme
Enzymatic Assay
The total thymidine phosphorylating activity was determined in the brain, skeletal muscle, heart, liver, kidney and spleen of 1 month, 3.5 months and 5 months old mice using [methyl-3H] thymidine.
The result shows that, in 1 month old mice, there is an increase in dThd phosphorylating activity in the Dm-dNK+/- positive mouse samples as compared to the dThd phosphorylating activity (that is a result from TK1 and/or TK2 activity) in the wild-type mouse samples. It was observed that the enzymatic activity was higher in the skeletal muscle, brain and kidney when compared to the heart and liver samples.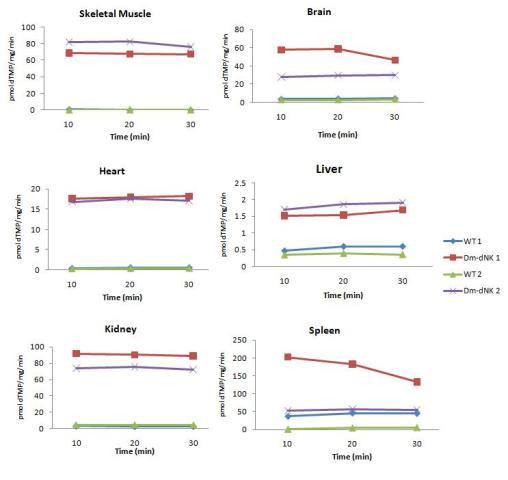 A high dThd phosphorylating activity was observed in skeletal muscle and kidney in samples from 3.5 months old Dm-dNK+/- positive mice. There was no difference in enzyme activities between the Dm-dNK positive mice and the wild-type mice in 3.5 months old mice brain samples or any analyzed tissues from 5 month old mice.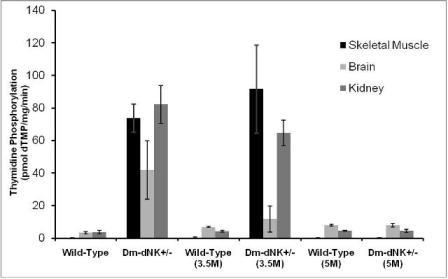 Responsible for this page: Agneta Johansson
Last updated: 05/22/11