Author information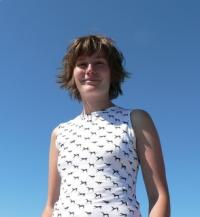 My name is Kristina Persson and I've been studying here at Linköping University for five years now. Originally I come from Ronneby in Blekinge, where I also have spent most of my life.
I started my project not knowing much about butterflies, but soon I realised that it is a fascinating subject. Today, I'm very interested in the future of the butterflies, and this summer I worked with a national inventory of bumblebees and butterflies (http://www-nils.slu.se).
.
.
Questions or information? Contact me!
E-mail: stinapersson@gmail.com
Tel: +46 70 394 17 36

Responsible for this page: Agneta Johansson
Last updated: 09/03/06