So, this is me - a real biologist with a hunger for new experiences in our world of never ending knowledge. My childhood was filled with many different things – all from playing volley ball to handle the guitar in a rock band. But when looking back now, I realize that my largest dream as a youngster was to become an astronaut or an inventor. So some where, deep inside I think I already from the start was a scientist or a philosopher.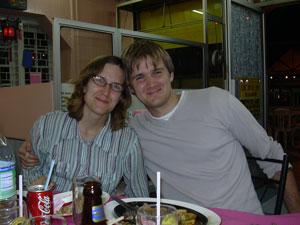 And what do I do in my spare time, when I not doing science? First of all I want to be together with my lovely fiancée (picture). I really hope that the future holds a wedding in a year from now (summer 2005), a wedding filled with love, friendship and beautiful nature.
Something else that falls me close to the heart is writing. During my undergraduate years I have been finishing a novel (not published – maybe in the future though if my dreams come true). I think this is the perfect way to get outlet for all those ideas that grabs you when you studying science. And of course, the area I write in is Science fiction – the style that doesn't blocks the mind and where all ideas can be experimented with – the area for a true philosopher and scientist.    

Responsible for this page: Agneta Johansson
Last updated: 06/13/05